Last updated: June 20, 2020
Best Fish Finder – Lowrance vs. Humminbird vs. Garmin
The market of fish finders is truly wide, with many brands pushing their latest models. It can be truly difficult to know which brand to choose since each of them seems so similar at first glance, but they become very different once you start digging and seeing what they offer and what they specialize in.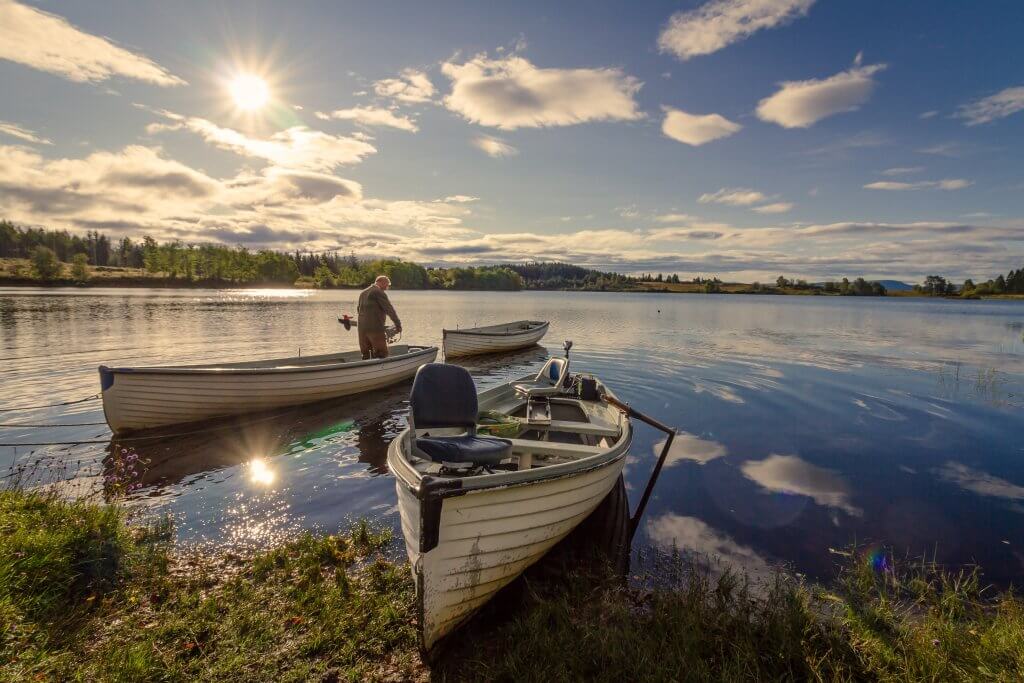 Today we'll be comparing three of the biggest brands: Garmin, Lowrance, and Humminbird. All three of these brands have shown that they can create amazing fish finders for various buyers and needs. From high-end units that have half a dozen imaging types to small units that you can use by yourself on the weekend with a tiny boat, they serve multiple markets.
We're going broad today and comparing the brands and what they generally offer. Be sure to give each brand a shot and look at everything they offer before making a final choice.

Overview
Before getting too deep into what each brand offers, let's introduce them to you and get you acquainted. This will give you a better idea of what each brand is and why they offer what they offer.
Lowrance opened its doors in 1957 and has been a leader in marine technology since its inception, creating many fish finders and related sonar units. They have adapted to new trends and imaging techniques, such as side imaging (StructureScan) and down imaging (DownScan) with ease. Perhaps their biggest innovation in the market came in 2008 when they were the first to introduce an HD multifunction screen. They continue innovating and making products that anglers the world over love.
Humminbird started in 1971 and has been marked by homegrown roots and innovation from start to present. Beginning in a small garage in Alabama, Humminbird started a trend of being the first to produce or use new technology. They were the first to introduce a waterproof depth sounder, one of the first to use LCR screens (which later evolved into modern LCD screens) and they were the first to use 360-degree sonar technology. From anglers to large boats, Humminbird is a company marked by unique products and a willingness to try new technology.
Garmin has different roots than Lowrance and Humminbird, but their commitment to their fish finders and products, in general, is definitely top class. Starting in 1989, Garmin started and is currently a leader in GPS technologies. They have adapted their GPS units to work with automotive, marine, aviation and outdoor needs, plus they have created many types of wearable tech. Though their fishfinder lineup is limited, it has a serious following because the Garmin brand is all about quality.
Though all coming from different sides and areas, they all converge when it comes to caring about GPS and sonar tech, and they all cater to the fisherman who doesn't want to go into the waters blindly. Now, let's start dissecting them to see which fits you best.
Number of Products
The number of products may not seem initially important, but there's a big reason we're bringing it up. Having more products means that the brand can reach more markets and hence you'll have an easier time finding a fish finder that works for your exact needs. It also means that there will be more options and the ability to work within your budget or preferences.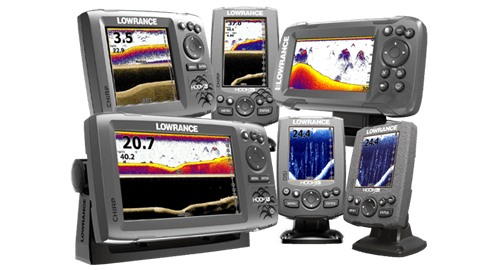 Lowrance has the most products overall. They have more series, more screen sizes and more overall options than the other two brands. Due to their commitment to anglers, you will find many products that are smaller and meant for personal use, but they also have larger and professional units that will work for your needs.
Humminbird has fewer series than Lowrance, but the gap is very small. They offer nearly as many products, but their offerings go in a different direction. Humminbird, as you can tell for their brand description, concerns itself more with new technology. You will often find higher-end units here that offer various types of imaging and other tools that you'll need for a great fishing trip.
Garmin seems stretched a little thin here since they currently only offer several types of fish finders. While they don't offer as many products as the others, the Striker and EchoMAP series do have a very dedicated following for the quality of their screens and the number of features that you can get for the price.
Overall Features
At the highest level, all of these brands offer nearly the same features. You can get CHIRP, traditional sonar, down scan, side imaging, multi-panel displays, dedicated GPS units with maps and so on. But, let's break down what the general offerings are so that you get a better idea of what each brand offers.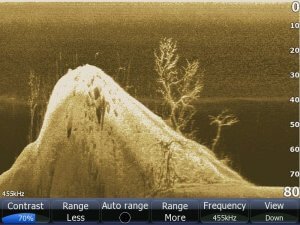 Garmin is the easiest to sort out since they only have a few series. Here you get units between 4 to 9 inches. The 4-inch and 5-inch units only offer CHIRP and ClearVu, which is similar to down imaging. The 7-inch and 9-inch models also offer SideVu. The GPS is incredibly accurate and you can easily draw your own maps, but it doesn't play well with map software. You're expected to rely on waypoints more than premade trails, and it actually does the best job of allowing you to draw out your trail.
Lowrance has a wealth of features. Their products range in size from a small 4 inches to a huge 16 inches, and you get all sorts of features depending on size and model. In general, their smaller units have down imaging and CHIRP, while larger units are equipped with side imaging and other features. Most models have button-based interfaces, but some of the higher-end models have touch screens with surprisingly wide viewing angles. What you'll notice is that the bulk of their market and technology is placed within units up to 7-inches. After that, you start seeing the same features, just with larger screens.
Humminbird doesn't have many products smaller than 5 inches, and the truth is that the majority of their products start at 7 inches and go up from there. While there are a few units only with down imaging, most have side imaging and other advanced features. Their largest model is 15 inches, and you can get WiFi, Ethernet connections and much more. Their maximum depths are amazing, and you can easily make out vegetation, objects and everything else around your boat.
While your exact model will determine what features you get and the price you pay, this is what you can expect to find from each brand.
Budget-Friendly Options
If money is of no concern to you and you just want the best fish finder possible, then feel free to skip this section. Much like with the overall features section, here we are going to talk about which brand is most budget-friendly so that you get the biggest bang for your buck. Once again, this all depends on which exact model you get.
Lowrance has the most offerings in the lower price range, and their models tend to be a little less than the others overall. While they do have a fully-stocked line of premium devices, the majority of their fish finders have lower price tags, making them ideal for anglers who want a small or mid-tier unit without emptying out their wallets.
Garmin is pretty middle-of-the-road here. They tend to be more than Lowrance, but are usually more affordable than Humminbird. That's mostly because their sizes and features are also between the two, so you should have no problem finding a good unit for a reasonable price.
Lastly, we have Humminbird. Their overall price tag tends to be the highest, especially since they don't offer many models below the 5-inch size, and because their largest models are packed to the brim with features and ports. They do have many budget-friendly options and mid-tier items, but it seems like the bulk of their products are more towards the premium market.
Ease of Use
Lastly, let's talk about ease of use. How quickly can you pick up and learn these fish finders so that you can easily switch between tools and options and start finding fish? Honestly, all three are tied here. They are all built to have low learning curves so that you can immediately get out there and start fishing.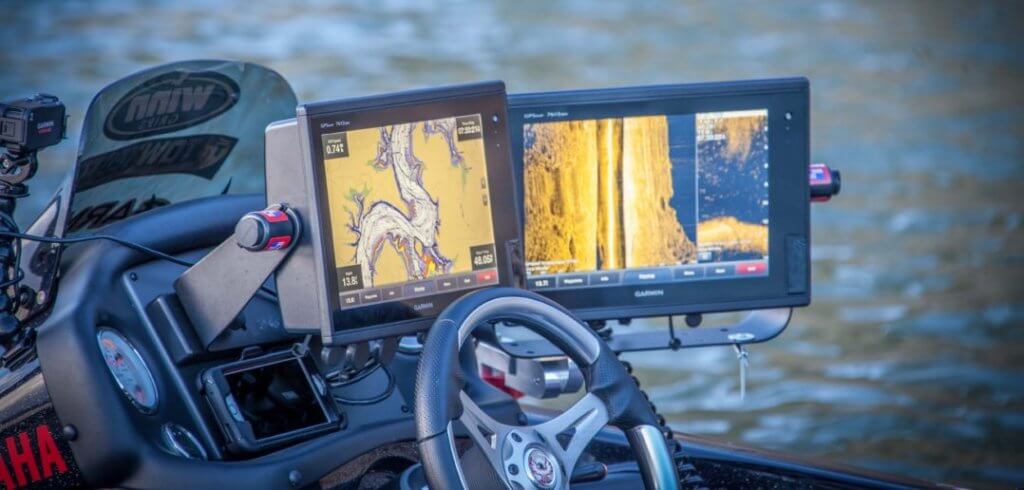 No one wants to spend hours of time reading manuals, figuring out buttons, coordinating options and so on. Each brand knows that fishermen just want to attach the finder to their boat, turn it on and get that sonar running. Don't worry, you'll have an easy time regardless of what you choose. Unless you are getting a huge, premium unit, all of the fish finders from these three brands should take very little time to learn and properly use.
Best Models
Here we'll discuss three of the best models from each brand based on price and functionality. We will separate them into affordable, best value and high-end premium units.
Garmin Line
Affordable: Garmin Striker Plus 4cv
Good things come in small (and affordable) packages. This budget-friendly fish finder has a small 3.5-inch screen with surprisingly good clarity and numerous features. You get CHIRP sonar capabilities for highly detailed images along with ClearVu imaging for downscanning. The depth reaches 830 feet in saltwater and 1,750 feet in freshwater. Fish Symbol technology helps you identify fish when they're nearby. There are multiple frequencies to choose from for custom imaging.
It has GPS capabilities as well to track where you're going and how to reach your destination. You can store up to 5,000 waypoints. Quickdraw Contours creates maps of your trails so you can see where you've been before. Despite the small display, you can split it into two screens for viewing sonar and GPS simultaneously. Plus, a backlight LED ensures you can see the readings no matter the lighting conditions.
---
Best Value: Garmin Striker Plus 7sv
The Plus 7sv is the de facto fish finder for serious fishermen. It comes at a great price point and is packed with features along with a large high-resolution 7-inch display. At about $500, you're getting a premium fish finder for a bargain. The simple interface ensures old pros and newcomers can operate the sonar with ease. You can switch between side imaging, CHIRP sonar, and ClearVU with the push of a button. Or load them all at once. The screen is large enough to see them all simultaneously.
The pinpoint accurate GPS is helpful for navigating and WiFi capabilities allow you to update your map on the fly. The GPS stores 5,000 waypoints at once. The sonar can peer 1,100 feet into saltwater and 2,300 feet into freshwater. If you're serious about catching fish, then this is the fish finder you want on your boat.
---
Premium: Garmin EchoMAP UHD 93sv
This is easily one of Garmin's best fish finders. With a large 9-inch screen and multiple features, this is for fishermen who demand the best on their boat. Along with SideVu and ClearVu, you also get CHIRP imaging and support for some of the best sonars. This comes preloaded with
LakeVu G3 maps
, which covers over 17,000 lakes to help you find the best fishing spots. If that's not enough, you can share sonar data with nearby people using ECHOMAP Plus, UHD, and Ultra models.
The 9-inch screen is bright and clear, ensuring you can view the image in any lighting condition. You can load multiple sonar types on the screen at once, and the dedicated buttons on the side ensure you'll have no problems navigating the fish finder. This premium fish finder has all the features you need along with one of the biggest, clearest displays available. If you want the best, then you just found it.
---
Lowrance Line
Affordable: Lowrance Hook 4x
You wouldn't expect a portable 4.3-inch fish finder to have many features, but Lowrance packed as many as they could into this unit. You get traditional sonar, CHIRP, and DownScan. Not enough? What about an optional ice transducer for ice fishing? You also get Advanced Signal Processing. This significantly reduces sonar noise for clearer images. Despite the small screen, you can load multiple imaging types and view them simultaneously.
There are several frequencies to choose from, such as 83, 200, and 455kHz depending on the imaging, and it can scan up to 300 feet deep for DownScan and 1,000 feet with CHIRP. The adjustable backlight makes this easy to view in the morning or night. Sonar images are stored on the SD card and you can check the history for changes or to see if you missed a hiding fish. This is a feature-rich affordable fish finder that's easy to use for fishermen of all skill levels.
---
Best Value: Lowrance Elite 5-Ti
Despite its mid-tier price, it's easy to confuse this for a premium fish finder with its laundry list of features. The Elite line stands as one of Lowrance's best and the Elite 5-Ti is the most popular in this lineup. Choose from CHIRP, side imaging, down imaging, and more. Need wireless connectivity? You get both WiFi and BlueTooth. This allows you to update maps wirelessly and share data with other Lowrance users. MicroSD card slots allow for expandable memory so you can save more waypoints, custom maps, and trails.
Along with adjustable frequencies and the ability to load multiple imaging simultaneously on the large 5-inch screen, you get Lowrance standard features like Automatic Fish Symbol ID. This ensures you'll know when a fish is nearby so you can cast your line at the perfect time. For a reasonable price combined with premium features, you can't go wrong with the Lowrance Elite 5-Ti.
---
Premium: Lowrance HDS 7 Gen3
The HDS line isn't just one of Lowrance's best, it's one of the top-ranked fish finders in the world. Built with a 7-inch screen that features best-in-class brightness, you get numerous imaging types like DownScan, StructureScan, CHIRP, and more. The multifunction screen is packed with tools, yet even new users can quickly navigate the fish finder with ease. You also get a video input cable, WiFi connectivity, and it can integrate with multiple map programs.
The intuitive GPS can store up to 200 trails and 5,000 waypoints, which is nearly double the number of other fish finders. Need more? You can load two microSD cards up to 32GB each. You'll love GoFree, a cloud-based feature that lets you download maps from nearby fishermen. Switching between sonar frequencies can be done via the touchscreen or buttons, and depth is about 1,000 feet. For those who want a successful fishing trip, the Lowrance HDS 7 Gen3 is a necessity.
---
Bonus Premium: Lowrance Elite 9 Ti2
We have another premium offering from Lowrance and they really outdid themselves with this. You get multiple imaging types like CHIRP, downscan, sidescan, and structurescan. This ensures you can view all angles around your boat to find any hiding fish. Speaking of hiding, you also get Active Imaging and FishReveal. Active Imaging combines CHIRP and other scanning types for the clearest imaging possible. FishReveal shows you if fish are hiding near your boat.
As you can expect from a premium fish finder, this has a large 9-inch screen with great resolution and a powerful backlight. You can use either the physical buttons or touchscreen for choosing your preferred imaging type. You get wireless connectivity via BlueTooth and WiFi, plus this can use C-Map Genesis for active mapping in real-time. There's also expandable memory up to 32GB. If you want the best of the best, then the Lowrance Elite 9 Ti2 might be right for you.
---
Humminbird Line
Affordable: Humminbird Helix 5 CHIRP DI GPS G2
We're shoehorning this in since Humminbird doesn't have many budget-friendly fish finders, so this is both larger and more expensive than the other affordable models here. That being said, you're still saving money with this surprisingly versatile and powerful 5-inch fish finder. You get CHIRP sonar, down imaging, side imaging, and an accurate GPS for waypoints and chart plotting. The size and form factor is ideal for kayaking, but anyone with a small boat (or large one for that matter) can easily find any fish swimming around them.
The 5-inch screen is vibrant and bright so you can see in any lighting conditions. You also get Humminbird's SwitchFire tool. This lets you customize the sonar either with Clear mode for better images or Max mode for faster processing and making out large objects. It's also color-coded based on distance from your vessel. This might be an affordable fish finder, but the large screen and many features make it feel like a mid-tier offering at a discount.
---
Best Value: Humminbird Helix 7 CHIRP SI GPS G2N
This fish finder is the motherlode of features. The Humminbird Helix 7 has down imaging, side imaging, CHIRP, GPS, dual-beam sonar, chart plotting, and more. Plus, the intuitive interface ensures you can select whichever feature you want with ease. On top of the numerous imaging types, you also get 360-degree view, wireless networking features, and Ethernet access.
SmartStrike
is a powerful feature that helps predict where the fish are so you know exactly where to cast your line.
The 7-inch screen has fantastic resolution so you can easily see all the imaging types, plus it comes in 256 colors and a bright LED backlight. All this produces one of the clearest and brightest fish finders around. All the buttons are located on the front so you can easily navigate through the features and options. If you want a strong fish finder with tons of features, then the Hummingbird Helix 7 is exactly what you need.
---
Premium: Humminbird Helix 9 Mega SI GPS G3N
This is very similar to the Helix 7 but with some important changes. The first major change you'll notice is the 9-inch screen, but that's far from the only difference. You get all the imaging types of the Helix 7 like the down imaging, side imaging, CHIRP, GPS, dual-beam sonar, and chart plotting. This can also link this to your motor to view engine stats like fuel consumption and performance.
You also get wireless connectivity along with Mega Side Imaging+ and Mega Down Imaging+. The Helix 9 has an improved CPU for faster processing, which you'll really notice at higher speeds. The 9-inch screen features fantastic resolution and a bright LED backlight for easy viewing regardless of lighting conditions. You'll find dedicated buttons to the right for changing imaging types or navigating through the other options. This is certainly a premium fish finder worth every penny.