Last updated: August 1, 2021
Simrad Go9 XSE Review (It Works with Halo Sonars)
The Simrad Go9 XSE (Extended Sonar Edition) stands as one of the best Simrad fish finders. Not only is it large with a 9-inch screen, but it's ideal for center consoles and larger vessels. It's not just the display that's larger. This is a stronger fish finder compared to the other Go XSE models (like the Go5 XSE and Go7 XSE).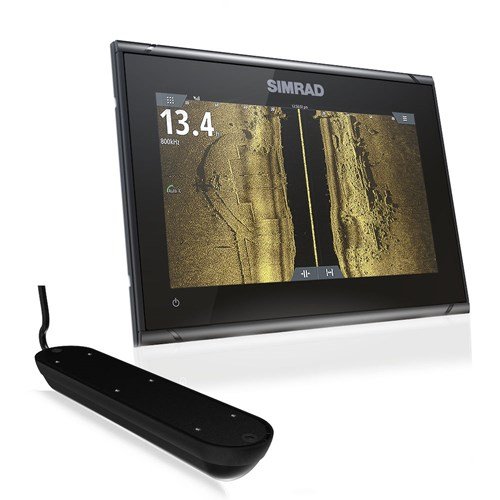 Read on and find out more about this powerful fish finder. From anglers to those who love being out on the water and exploring, this fish finder has something for everyone.
Display and Resolution
The 9-inch screen is huge and makes this ideal for equally large vessels. This also works with medium-sized boats as well, as long as the center console isn't too cramped.
The Go9 XSE's screen features a 480×800 WVGA resolution. This is quite good by fish finder standards. Many of the top models have similar resolutions, so you can expect very clear images from this model. Whether you're following the GPS, using the sonar to read nearby objects, or scoping out the best fishing spots, you'll have no problem with this display.
Simrad prides themselves on making their display as bright as possible, and at 1200 nits it's easy to see why. The Simrad Go9 XSE is viewable in any lighting condition, and from any angle. You won't have to worry about finding shade to make the screen visible.
User Interface and Touchscreen
The Simrad Go9 is a touchscreen only. Some fish finders have physical buttons or allow you to use either a touchscreen or buttons. Not this one. Some people are concerned they won't be able to use the fish finder if their fingers are wet. That shouldn't be an issue. This is a responsive model and it should work fine in any condition.
Another concern some people have is the user interface. Physical buttons seem easier to use. Simrad faithfully recreates this experience with the user interface. The Go9 uses large and colorful icons. You'll see icons for Chart, Navigation, StructureScan, and more.
You can have one, two, or four views on screen simultaneously. The Go5 only allowed two at most, so this is a big upgrade. You'll find some default combinations to the right, or you can make your own. It's simple, and with four views at once you'll see everything you need.
The interface is simple and anyone can learn it.
Wireless Connectivity
The Go9 XSE lets you walk around the boat and enjoy your trip without shackling you to the fish finder. You can accomplish this by pairing the Go9 with your smartphone or tablet. The view will be mirrored so that you can see the sonar and GPS views, plus you can even control everything from your device. Change the view, plot a new course, or even change the autopilot.
Pairing the device only takes a few seconds. You can now enjoy the trip even if you're on the other side of the boat.
GPS Capabilities
What's a fish finder without a GPS? The Simrad Go9 XSE has a lightning fast GPS at 10Hz. This keeps up with your position and makes it easy to find your course. It's loaded with Insight Maps and can optionally come with C-MAP Pro loaded as well. Insight Maps includes information on 8,000 lakes and rivers in the US, and C-MAP Pro has even more information along with consistent updates.
Unlike the other Go XSE models, this one has extra memory storage. All the Go models take microSD cards to save waypoints and maps. The Go5 and Go7 can take one memory card. The Go9 has two slots, so you can add two 32GB memory cards simultaneously. This allows you to save about 20,000 waypoints and plenty of maps.
This is a must for those who are serious about traveling or taking winding routes to reach their destination.
CHIRP and Halo Sonar
CHIRP sonar is the de facto sonar imaging you'll be using for much of your trip. This creates a 2D image that is both clear and far reaching. The CHIRP sonar can reach up to 1,000 feet below the water's surface, and it will help you locate fish in your area. This functions at 83/200kHz.
The Go9 can also work with HALO sonars. These are pulse compression dome sonars that can read storm signals and other information from up to 24 nautical miles away. If you want the best, then consider adding a HALO sonar to your boat because these are the smallest, easiest sonars for pulse compression technology.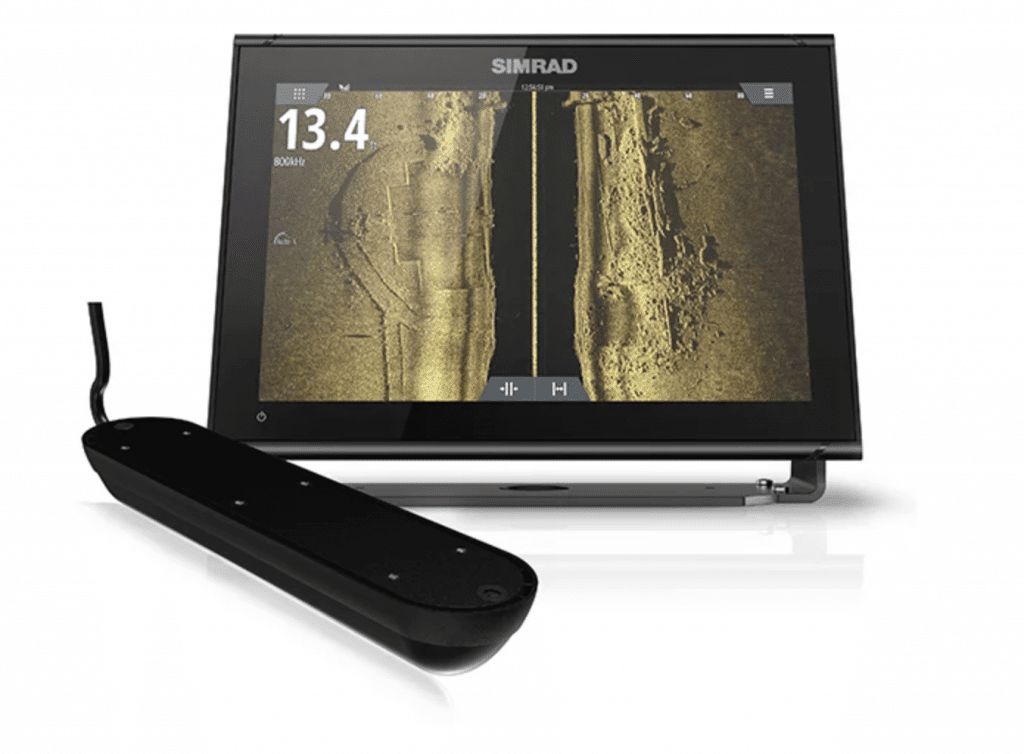 StructureScan
This type of sonar reads either directly under or around the boat, depending on your setting. You can do DownScan to read right under the boat. This is ideal for finding fish. They'll pop right up on your sonar when you do this.
You can also use SideScan. This allows you to get a clear image on one or both sides of the boat. This is ideal for seeing if there are nearby obstacles or fish near the surface. Both function at 455/800kHz and go for 300 feet.
You'll be using these quite often whenever you stop your boat or need a clearer image.
ForwardScan
The Simrad Go9 XSE also offers ForwardScan. You'll find this is nearly the same as SideScan in terms of clarity, but the direction is different. Instead of viewing around the vessel, this allows you to view directly in front of you. This is the best view to use when going through unfamiliar waters. You don't want to run aground, and this view will help you.
Like with the other Structure views, this operates at 455/800kHz and at 300 feet.
Other Models
Is the Go9 close but not quite meeting your needs? Here are some other fish finders to consider.
Affordable: Simrad Go5 XSE
If you don't mind something smaller and some fewer features (like no HALO sonars and less memory), but want to save money, then the Simrad Go5 XSE is a fine model. It has many of the same core features, but at a better price.
Click here to read full review
Mid-Tier: Simrad Go7 XSE
The Go7 and Go9 are very similar. They have nearly all the same features, the same sonar support, the same 4-view screen, and similar power. The only major difference is the smaller screen. It's a better price and you're getting a comparable model.
Click here to read full review
Premium: Lowrance Elite 9 Ti2
Here's a strong fish finder with a 9-inch screen, great resolution, and the ability to use both touchscreen and physical buttons. FishReveal shows you exactly where the fish are, and you can also load simultaneous views at once. It's a strong model for a serious angler.