Last updated: June 26, 2022
Simrad Go7 XSE Review (Mid-Tier Fish Finder from Simrad)
The Simrad Go7 XSE (Extended Sonar Edition) is the mid-tier fish finder from Simrad. Much stronger than the compact Go5 XSE, and nearly as strong as the bigger Go9 XSE but with a lower price tag. This fish finder is primarily designed for sportsboats and dayboats, but anyone looking for a capable fish finder will be happy with this unit. It combines modern technology with consumer versatility.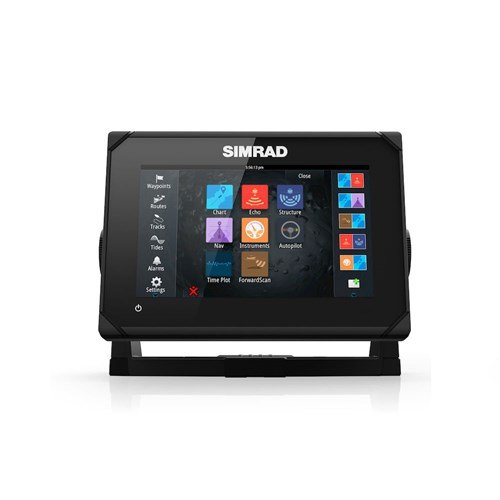 The Simrad Go models all have bright displays and easy user interfaces, but that's not all the Go7 XSE offers. Read on and see what makes this fish finder so special.
Display and Resolution
As you might guess from the "7" in the name, the Simrad Go7 XSE is a 7-inch fish finder. This is considered one of the best sizes for most vessels.
The Go7 has a resolution of 480×800 WVGA. On paper that may not sound like much, especially when compared to modern tablets, but it's actually quite good for a fish finder. You'll find that many top brands have a similar resolution. The sonar readings, chart-plotting, and more are very clear and you can easily distinguish between fish and other objects in the water.
With 1200 nits of brightness and a strong backlight, the Go7 XSE can be viewed in any lighting conditions. It doesn't matter if the sun is directly overhead or setting, you'll see the readings without having to find shade.
User Interface and Touchscreen
The decision to make the Simrad Go7 XSE touch-only is polarizing. Many people prefer physical buttons with fish finders or the ability to use both buttons and touch. While some people might be unhappy with Go7 only being touch-enabled and having no physical buttons, it has a fantastic user layout that makes the process simple.
Simrad uses large digital buttons for selecting the different sonar and GPS views (Chart, Echo, StructureScan, etc). You can also use a split screen feature and see two or more views simultaneously. Don't worry, it's simple. There are several default combinations to the right-side of the screen, or you can make new combinations.
Give the Go7 a try and you'll be happy with the user interface. It's fast, responsive, and very easy to learn.
Wireless Connectivity
Are you tired of standing in the same spot just to watch your fish finder? The Simrad Go7 XSE gives you freedom by allowing you to connect to a compatible smartphone or tablet. Simply pair the devices and walk around the ship. You can view the radar and sonar findings from your device. You can also change the views as well.
It's simple to pair the devices and you can walk around the ship without missing fish or anything else.
GPS Capabilities
The Simrad Go7 XSE has a built-in GPS and comes loaded with Insight Maps. This contains data on more than 8,000 lakes and rivers across the US. You can also upgrade to C-MAP Pro for even more maps and consistent updates. Connecting your fish finder to WiFi every now and then is recommended so the maps can update.
The Go7 natively has 90MB of storage, which should be enough to store several hundred waypoints and all the maps. You can also use a microSD memory card up to 32GB for even more storage. This allows you to save up to 10,000 waypoints.
You'll find the Go series is known for its fast GPS. The 10Hz GPS updates rapidly as you go through the water. It's ideal for those who want to cover large distances without waiting for their GPS to catch up.
CHIRP Sonar
A compatible transducer gives you several imaging types, like CHIRP. This traditional sonar combines low and high frequencies for clear images at deep depths. The Go7 model is capable of viewing up to 1,000 feet below the surface and uses a 83/200kHz frequency.
This is a very common 2D sonar scan that many fish finders have. It will help you view around your vessel so that you can see if any fish are nearby.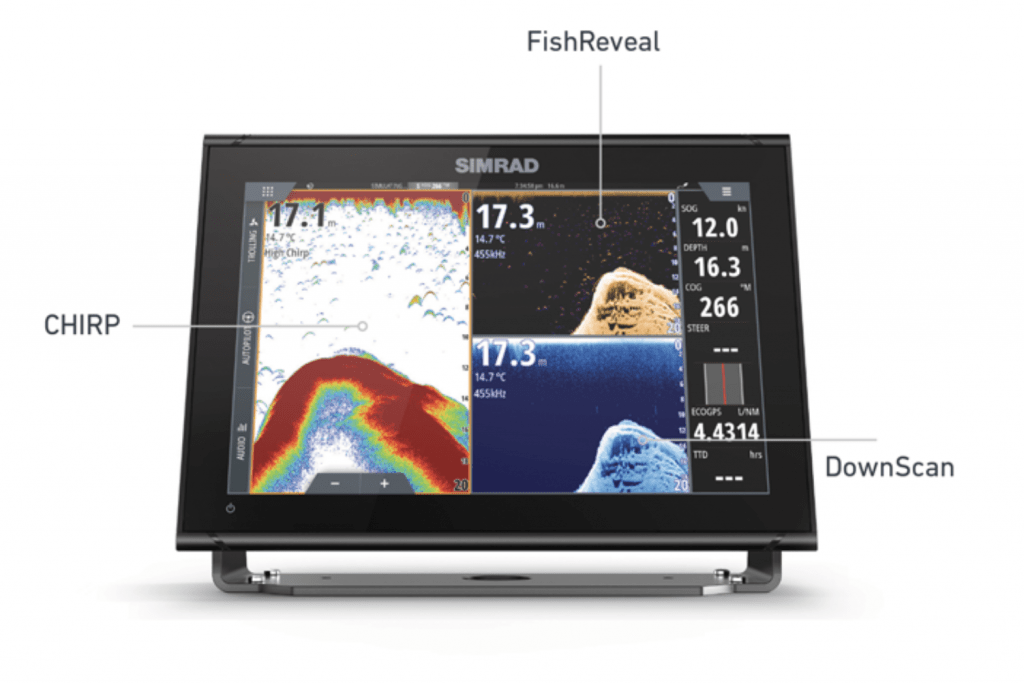 StructureScan
The Go7 comes with StructureScan, which allows you to use either DownScan or SideScan. Both of these allow you to view up to 300 feet at 455/800kHz, but the viewing angle is different depending on which you choose.
DownScan views under the boat and gives you an incredibly clear view. It's like you're down there with the fish, which makes it easy to see if those objects you saw on CHIRP were really fish or some type of debris.
SideScan is just as clear, but this views the sides of your boat. This can help you see fish that are closer to the surface, and it's also great to map out the area immediately around your boat. If you're in uncharted or poorly chartered waters, then SideScan will be your best friend.
ForwardScan
This is another feature available with the Go7 as long as you have a compatible transducer. You'll find this is similar to SideScan, but it's more forward-oriented and better for actively navigating through water. It operates at 455/800kHz and can show you oncoming obstacles so that you won't run aground.
You likely won't use this in waters that you're familiar with or when you're casting, but it's helpful when you're navigating new areas.
Other Models
Here are some other models to consider.
Affordable: Simrad Go5 XSE
If you're looking for something a little more affordable and with nearly all the same features, then the Go5 XSE might be better for you. It is a little weaker and smaller, but the better price does make it an attractive buy for those who want to save some money.
Click here to read full review
Mid-Tier: Simrad Go7 XSR
The XSR model is an upgrade over the XSE. It's a newer, stronger model with sonar capabilities, like with the Halo sonar. This allows you to better track storms and the area around you. This also has a restyled glass-helm design. It's a little more money, but it's ideal for those who want the strongest 7-inch fish finder.
Premium: Simrad Go9 XSE
The Go9 is a larger, stronger fish finder that definitely deserves the word "premium." It has all the features you need, plus it's large screen makes it ideal for larger vessels. It uses state-of-the-art technology both for charting your course and finding nearby fish.
Click here to read full review
You might also want to check out my best fish finder post to browse more models out there.