Last updated: July 29, 2021
Best Kayak Fish Finder to Buy in 2021 (Reviews & Buyer's Guide)
Kayak fishing is exploding in popularity right now. It's one of the easiest ways to get into the water. Not only that, but it gets you up close and personal with the action. You're right on the water, fighting to reel in the big one on your line. It's intense and, more importantly, really fun.
You know what the best part about fishing is? Actually catching fish. That's where a kayak fish finder comes into play. These models are specifically meant for kayaks, meaning they're easy to install on your kayak and they're usually lightweight models that are simple to use. Read on to see which models are the best for your kayak.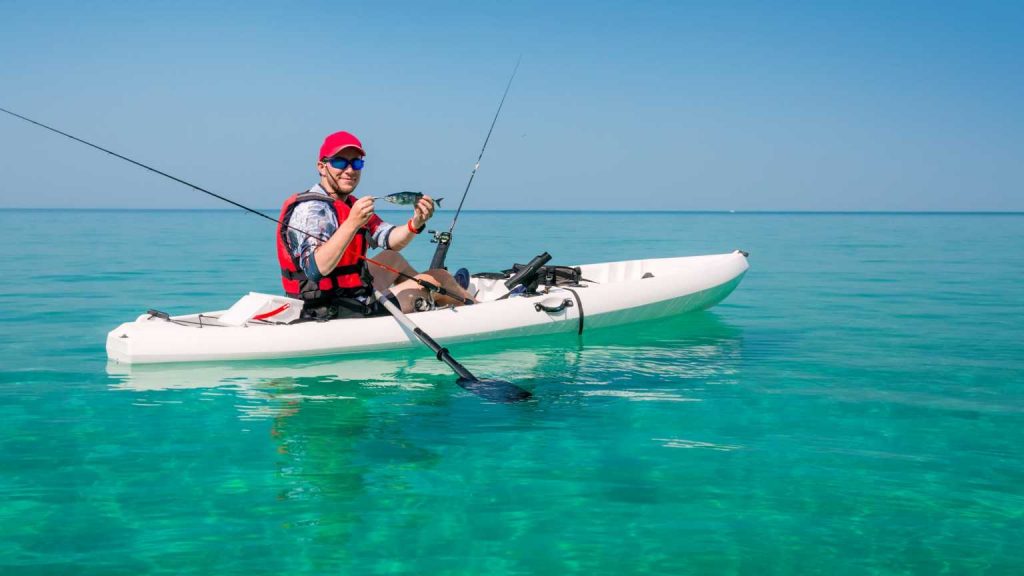 Buying Guide
How do you determine which is the best kayak fish finder? Our buying guide will help. This section will show you all the major factors you should consider when buying a fish finder. It can be difficult to find the right one, especially if this is your first or you're not sure what to look for. We made this part accessible to beginners, so you'll have no problem seeing what features are the most important.
Portability
There are many permanent fish finders on the market, but a portable one will likely work better with a kayak. Portable fish finders are lighter and easier to attach to your boat. This is best for kayaks and rental boats because you can easily remove them as needed.
Screen Size
You have to balance screen size not only with your budget, but with the kayak itself. In general, you'll want to get the largest screen size you can afford in your budget. A larger screen not only makes it easier to see the sonar findings, but often these models come with more power and features.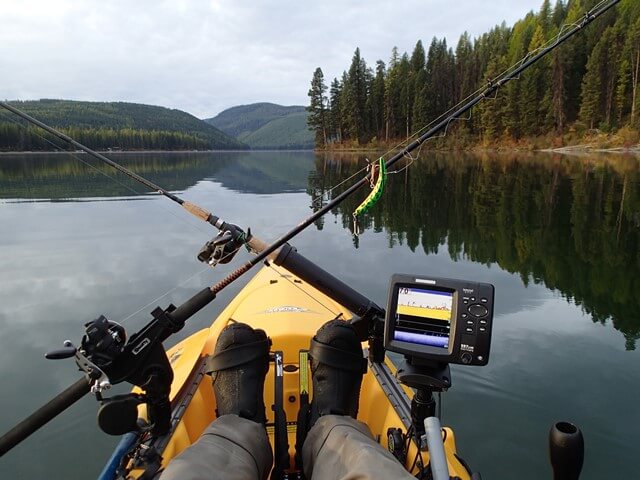 However, you also have to consider the size of your vessel. Would it be a good idea to put a 9-inch fish finder on a kayak? Probably not. You should aim for about 4-7 inches in general. Anything larger might be too much for the kayak.
Resolution
A low-resolution screen looks terrible because the image will look blocky. You'll want to ensure you're getting good resolution so that you can easily make out the sonar imaging. Resolution refers to the number of pixels on the screen. More is always better in this case.
Backlight
You'll need a backlight for viewing during the morning, night, or any other time where lighting isn't ideal. A bright LED backlight is best because it ensures the whole screen is visible regardless of lighting conditions.
Imaging Types
Here's a simple formula: the more imaging types, the better. Each imaging type improves the functionality of your fish finder. Some imaging types include: CHIRP (very clear sonar imaging), side scan (looks around the boat), down scan (under the boat), and structure scan (looks around contours for hiding fish). Consider your needs and get as many imaging types as possible.
GPS
The best fish finders have a GPS to help map your course and to help you get back home. A GPS is even more important when kayak fishing away from the shoreline. It's easy to get lost, especially if you're a newcomer to kayaking. We highly suggest getting a fish finder with a GPS for this sport.
Water Resistance
Water resistance is more important than ever when kayaking. If you're in a boat, then chances are that no water will get on the fish finder. When you're in a kayak, you're right on the water. Choose a model that's rugged and able to withstand getting wet.
Best Kayak Fish Finder Reviews
Garmin Striker 4 Review
Here's an affordable kayak fish finder that's great for newcomers or anyone who wants a smaller model. The 3.5-inch screen is colorful and you can load up to two sonar images at once. This uses Garmin's ClearVu CHIRP sonar to help view fish hiding around your boat and under the surface of the water. Despite its small size, this can peer deep into the water, up to 750 feet into saltwater and 1,600 feet into freshwater. This should be more than enough for most bodies of water your kayak can safely go into.
ClearVu gives you nearly photographic results so you'll see fish as they're swimming around. You'll know exactly where to cast your line for the best catch. As a portable unit, this is easy to maneuver around while you're fishing. It also installs very easily and weighs just 8.1 ounces. You should only need a minute or two to place it on your kayak. The waterproof rating is IPX7, which is great for kayaking.
There are dedicated buttons around the fish finder that help you switch between imaging types, load several images at once, and access every other feature. It's simple and anyone can use it. If you love ice fishing, then this fish finder can help as well. It's strong enough to get through ice and show you if there are any fish around.
If you want an affordable and portable fish finder, then the Garmin Striker 4 is a great unit. It's compact, easily fits on your kayak, and has enough features to make it highly versatile.
---
Deeper Chirp Smart Sonar Review
This is the only castable fish finder. Not only that, it's the only fish finder without a screen. Why? Because it connects directly to your device. This works in tandem with your Android or iOS device to show you the sonar findings. This isn't just ideal for kayaks, it's great for any fishing adventure or as a gift for anyone who loves to fish. Despite being a castable fish finder, this has a surprising number of features and it's the most portable unit you can find.
Installation isn't an issue at all. You don't need to worry about attaching anything to the body of your kayak. The fish finder attaches to your line and then connects to your smartphone. Most people will then attach their phone to the pole, but you can put the phone wherever you want. The two can communicate as long as they are within 330 feet of each other. You just need to download the Fish Deeper app to sync them. Not only that, but this app has tons of features to map your trip and ensure you find the most fish.
This fish finder uses CHIRP sonar technology and you can choose between three different sonar frequencies for the clearest view. It's accurate from 6 inches to 330 feet under the water. The battery charges quickly. You can charge it up to 80% in 45 minutes and 100% in 75 minutes. If you want a unique fish finder that truly excels in portability, then the Deeper Chirp Smart Sonar is perfect.
iBobber vs. Deeper Smart vs. FishHunter
---
LUCKY Portable Fish Finder Review
If portability is your priority, then the LUCKY Portable Fish Finder is the ideal model for your kayaking needs. This model has a small but highly detailed 2.4-inch LCD display with vibrant TFT color. As expected of a fish finder, this helps you see underwater contours, depth, temperature, and whether there are any fish swimming nearby. This gives you a 26-feet wired operating distance and can be temporarily mounted to your kayak. Or, operate it wirelessly for up to 5 hours on a fully charged battery.
The depth detection reaches 328 feet under the water and can also be used for ice fishing. The beam angle is 45 degrees with a 200kHz signal. You can change the sensitivity of the sonar to pick up more details or to only show what's important. You can also set a fish alarm and fish icons so you'll know when there are fish near your kayak. There's a USB cable for charging, ensuring that you can easily charge the battery.
This fish finder works in various environments. You can use this for sea fishing, river fishing, ice fishing, shore fishing, and more. You can also change the display between blue, red, and gray. Blue is the clearest display, gray is for professionals who can easily discern the difference in contour changes, and red is between the two.
If you want a small fish finder that easily attaches to your kayak and gives you clear sonar readings, then this is ideal.
---
Humminbird Helix 5 Review
This is a somewhat larger fish finder around 5 inches, but that should still give you plenty of room to maneuver in your kayak. Plus, it gives you more power and features to play around with. The clear 5-inch WVGA color display has 800×480 resolution, which is found in the top fish finders. You'll have no problems seeing fish, contours, maps, and anything else the fish finder picks up. Speaking of maps, this has a built-in GPS that connects with Anima cartography.
What about imaging? You get several types here. You get CHIRP sonar that can read around the boat and deliver clear sonar images. You also get down scan for seeing under the kayak and side scan for seeing around the sides of your kayak. These are all nearly photographic in quality, ensuring you can see fish and anything else underwater.
There is a microSD card slot for expandable memory. This allows you to save more waypoints and paths. You also gain access to the proprietary Humminbird SwitchFire feature. This allows you to use either Max Mode or Clear Mode for your sonar imaging. Max Mode uses more power and delivers everything around you. While it's more inclusive, the imaging might be too full of detail. Clear Mode clears up the image and ensures you see the most important findings. Since this has a larger screen, you can easily load two imaging types at once and cross-reference them.
If you want a stronger, more feature-rich fish finder for your kayak, then this might be perfect for you. It's also easy to maneuver around despite its larger size.
---
Lowrance Hook2 7 TripleShot Review
Here's the biggest and best kayak fish finder we suggest. Yes, it's bigger than the others, but at 7 inches you should have no problem maneuvering around it. You're getting a 7-inch Solarmax display, which is one of the clearest and brightest you can buy. On top of that, you're getting lots of features and imaging types.
This fish finder has CHIRP sonar along with powerful side scan and down scan for nearly photographic results. The large screen can easily show two or more imaging types simultaneously. You also get a chart plotter and GPS along with C-MAP waypoints and maps. The maps are highly detailed and can be updated as you go through the water. Switching between all these features is easy with the dedicated buttons on the side.
You also get the TripleShot 3-in-1 transducer for a wider sonar image and even clearer images. This fish finder is built to be intuitive. You'll have no problem loading your favorite imaging types and switching between them. Not only that, but this fish finder is surprisingly easy to load onto a kayak or any other vessel.
One of the best features is the auto-tuning sonar. This keeps you from fiddling around with the sonar to find the best image. Lowrance Hook2 will do the work for you so you can focus on fishing.
This is a premium fish finder perfect for kayaks or larger vessels. Whether you want a clear screen or a laundry list of features, the Lowrance Hook2 gives you both.
---
F.A.Q.
Is a fish finder worth it on a kayak?
You're so close to the water and in such a small vessel, you might be wondering if it's even worth using a kayak fish finder. This gives you several distinct advantages. First and most obvious is that you can easily find fish around you. This also helps you find underwater structures, map points, and easily find your way back if needed.
Can you put a fish finder on a kayak?
If we didn't make it obvious enough, then yes, you can put a fish finder on a kayak. Some install directly to the kayak, others are small enough to fit in your hand, and some connect to your line. Just consider which is best for your kayak and needs.
What factors should I consider with a kayak fish finder?
Kayaks are small, so size and portability are incredibly important here. While you could use a 9-inch fish finder, it would feel incredibly bulky. It's best to consider one around 3-7 inches. You also want to make sure that the scanning depth can reach your target fish, and having multiple scanning types is always advantageous.
Will a transducer work on a kayak?
Fish finders need transducers to work properly, so you might be wondering if one works on your kayak. Absolutely! Not only that, but there's one advantage you may not have considered. Normally you need a suction cup to attach the transducer to your boat. However, since most kayaks are made of plastic, the transducer beam should be able to pass right through it. This means it's even easier to attach a transducer to a kayak.
What's the difference between kayak and boat fish finders?
In all honesty, there's no difference between the two. The fish finders that you can use on a kayak you can also use on a larger vessel, and vice versa. That means you can choose nearly any feature, scanning type, max depth, or software that you want. The only things that you should really consider are portability (you are on a smaller vessel after all), and water resistance since the water is much closer to you.
Aside from that, there really is no difference in the fish finder itself.
Do I need a fish finder for shallow waters?
Some kayakers don't think they need a fish finder if they're in shallow waters. What advantage does it have if you can see the bottom with your bare eyes? The truth is that fish might be hiding right underneath you in a hidden channel or hole that you can't see. Plus, fish finders make it easier to see the underwater structure. Even if you can see the bottom yourself, you should consider adding a fish finder to your kayak.
Does a kayak fish finder need a GPS?
If you're in familiar waters and you already know the path, then maybe not. However, you'll find this very useful if you frequently visit new areas or don't take the same path twice. A GPS can map your path and can help you find your way back with ease.
Conclusion
Kayak fishing has grown in popularity because it puts you right next to the action. If you want to enjoy this exciting sport to its fullest, then you need a kayak fish finder to ensure you find all the fish in your area. All the models we suggested here are portable, give you lots of features, and are easy to maneuver around despite your tiny vessel.
Each one is meant for a different type of fisherman. If you want something very portable, then the Garmin Striker 4 or LUCKY Portable Fish Finder would be best. If you want a unique, castable fish finder, then the Deeper Chirp Smart Sonar might be best. If power and features are what you're looking for, then choose either the Humminbird Helix 5 or Lowrance Hook2 7 TripleShot.