Last updated: August 1, 2021
HumminBird Helix 9 Review (DI & SI GPS and G3N vs. G4N)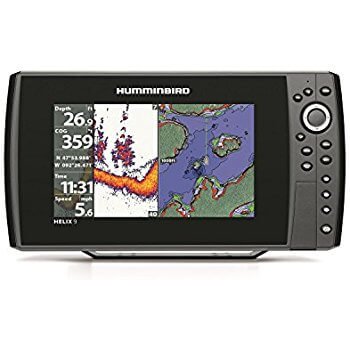 Everyone loves a company that listens to its customers. These are companies that not just understand their clientele, but also produce items that really suit their needs. In comes the Humminbird Helix 9. Recently upgraded with suggestions from customers to make it better than ever, Humminbird has produced a fish finder that works for fishermen of all levels. Whether you're looking for the occasional adventure on the water or you typically find yourself out on the water looking for the next big catch, the Helix 9 gives you a large display and enough features that you'll instantly fall in love with it. This review will go over all the main features along with discussing the numerous variants so that you get exactly what you're looking for.
General Overview
Most 9-inch fish finders are rather bulky, unwieldy even. But not the Helix 9. Measuring a very sleek 13.4W, 7.12H, and 4.2D inches, this makes the unit easy to install and carry around, based on your preferences. Not only that, but it's quite light, ensuring that you have no problems using it. The plug-and-play nature of this fish finder ensures that you can get it standard within a few minutes. The mount can quickly install or release so that it's simple to use and remove.
Another nifty feature is that Helix 9 offers two different SD card slots so that you can record lots of data, install updates or swap out cards for even more capacity. You gain access to the AutoChart feature that provides real-time images as you go through the water, and you even get up to 8 hours recording time.
All of the features are wired to buttons on the side, meaning that you won't have to dive through tools or menus to find what you're looking for. You can also split-screen your view to see different images of the water, ensuring you get the best clarity.
Display and Resolution
The Helix 9 is aptly named as it features a 9-inch display (I looked at the 7″ display models here) with a good resolution of 480-by-800 pixels and 1,500 nits of light, keeping it nice and bright during both the day and night. Being glass-bonded, it is resistant to glare while also providing an extra dose of durability. If you need a display that's both clear and can take a few dings here and there, then look no further.
Upgraded Processors
Fishfinders and other GPS units aren't known for housing the strongest CPUs, but they still need a sizable amount of power to ensure that the images don't lag. This is especially true for a fish finder, where you're tracking living creatures that might be trying to get away from you. Humminbird has upgraded the processing power of the Helix 9 so that it keeps up with you and all the critters under the depths.
This new CPU gives the Helix 9 25% more power, and you'll really notice the difference when you compare it to other similar fish finders. It can provide real-time imaging through your entire journey, making sure that you don't miss a school or the big one you've been looking for.
DualBeam SwitchFire
This is a typical feature amongst all the Helix models that helps you change from broad search and clarifying images. SwitchFire is a proprietary take on TVG or Time Variable Gain. In short, this is a feature that allows you to change the image from either a broad look where images are somewhat blurry (as they are with most sonar images) to clearer images to see if the objects are fish and if they are big enough to be worth catching.
You can choose between Max, which is broad and larger at 83kHz, and then Clear at 200kHz. Both of these are easy to change and they will help you find the perfect area to cast off. Max is better for deeper waters since the Clear signal isn't powerful enough to penetrate too deeply, but it'll help when you're right over the area you plan on fishing.
CHIRP Imaging
The CHIRP feature started as a military GPS feature, but it has since been added to specialty GPSs like fish finders. This helps you get the clearest image possible by bouncing waves of various strengths of the targeted area. Instead of getting readings from one type of pulse, this gives you the best readings possible so that you can easily see what's under the depths.
This feature comes standard with all of the Helix 9 models.
GPS Capabilities
The entire lineup of Helix 9 models come with GPS capabilities, so you'll get it no matter what. As you can expect, this allows you to easily see what's around you and keeps you from getting lost if you're going in unfamiliar territory. Along with basic GPS functionality, this will also display how quickly you are moving, and you can even program up to 45 different routes. As for waypoints, you can program up to 2,750 of them.
Power, Depth, and Frequency
Aside from the massive CPU boost, the Helix 9 boasts impressive wattage, depth, and frequency. Starting with overall power, the Helix 9 has a transmit power of 500W and peak-by-peak of 4,000W. The sonar itself can transfer between 83 and 200 kHz for 2D images and 455kHz for down imaging (explained below).
Depth clocks in at 600 feet for most 2D images, and 35 feet for side imaging (explained below). This should give you a very clear view of what's swimming around you and if it's time to stop or keep moving to the next waypoint.
Side-Imaging and Down-Imaging
Side-Imaging and down-imaging have become very popular with fishermen as this gives you a much better view of what's under the surface. Side-imaging creates a 180-degree plane that allows you to see what's to the left and right of the boat, not just right underneath it.
In contrast is down-imaging, which is likened to a fish's POV. This gives you ultra-clear images that help you see exactly what's down there. Whether it's a fish or something floating along with the water, you'll see exactly what's down there.
Not all models come with this. Look for SI in the name for side-imaging and DI in the name for down-imaging. There are four different models of Helix 9 and only two have this imaging, and they are as such:
Side-Imaging:
HELIX 9 CHIRP MEGA SI+ GPS G3N
Down-Imaging:
HELIX 9 CHIRP DI GPS G2N
The difference between regular and mega models is that mega ones have even more clarity and somewhat boosted power, giving you more depth and a better view of the water.
Helix G3N vs G4N
Humminbird has recently introduced their newest iteration of the Helix line. The Humminbird Helix 9 G4N improves many aspects, but many are left wondering what the major differences are between Helix G3N vs G4N. Honestly, there's quite a bit, from more frequencies and power, to a number of completely new features never seen before.
Like with the previous generation, this comes with the extremely powerful Mega Imaging+ for Down Imaging and Side Imaging. This improves both the clarity and depth of your imaging, and it's even better than with G3N Helix models. You also get dual spectrum CHIRP and a built-in GPS that connects with Humminbird Basemap, which contains information on over 10,000 US lakes. It also works with Navionics and offers 360 imaging. That's many of the similarities (though the G4N does them better), but what about the differences?
The first thing that you should know is that many of the above features are now standard with the Helix 9 G4N, but they weren't standard with the G3N. Since we're talking about the Helix 9 specifically here, you may have noticed that they share many of these features, but smaller and weaker versions of Helix didn't have these, but the G4N has these imaging types and maps with all their sizes.
G4N gives you WiFi connectivity along with an Ethernet port and Bluetooth. G3N only offered Ethernet and Bluetooth, so the WiFi is a welcome upgrade. G4N also has more premium maps. You can choose from both LakeMaster and CoastMaster charts, which ensures that you have an easier time finding the fish.
If we were talking about smaller or weaker versions of the Helix, then you would see more differences. However, the main thing the G4N does (aside from adding connectivity) is that it gives you more frequencies and power. The G3N has many of the premium features already, but G4N really masters them.
Helix 9 G3N:
Humminbird HELIX 9 G3N Fish Finder with CHIRP, MEGA SI+, GPS
Helix 9 G4N:
Humminbird HELIX 9 Chirp GPS G4N
Conclusion
The Helix 9 lineup is a powerful array of fish finders that will help you find everything swimming around you. The base model gives you a laundry list of features that you're sure to love, but be sure to check out the others as well if you'd like side-imaging, down-imaging, or boosted power for even more clarity.
Even the choosiest fisherman should be happy with any of the Helix 9 models because they give you everything that you need and more at a very fair price point.
You might also want to check out my best fish finder post to browse more models out there.