Last updated: July 28, 2021
Lowrance HDS 12 Gen3 Review (Huge Screen Makes Everything Easy to See)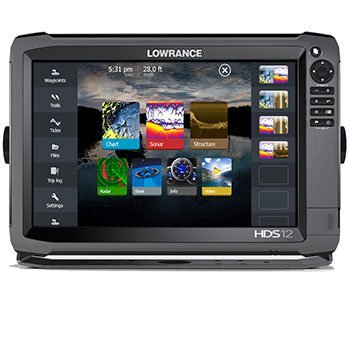 Today we're going to look at a premium fish finder that is full of features and has an amazing screen. The Lowrance HDS12 Gen 3 fishfinder is noted as being one of Lowrance's top models, and that's a big deal considering that Lowrance is known for innovating and changing the game on a regular basis. This model can be used for a regular outing or by professionals considering how much power it has. It can even control your boat if you wish to hook it up that way.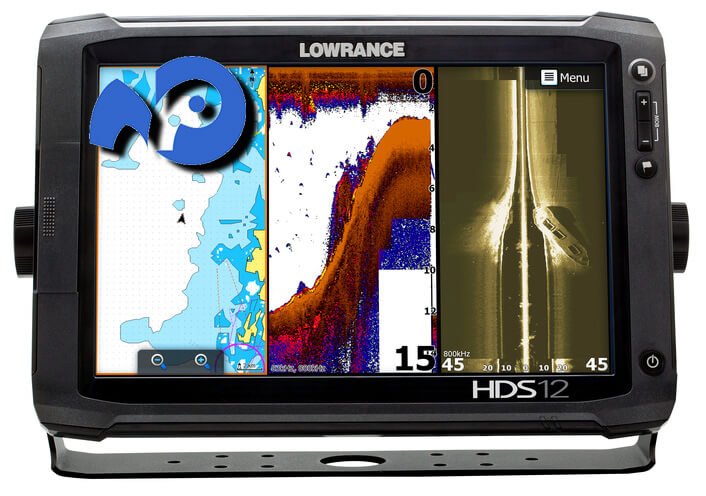 Let's dive in and see what makes the HDS12 so amazing and why it truly deserves its high price tag.
Display and Resolution
In the fish finder world (and GPSs in general) any numbers you see in the product's name are often telling of the screen's size, and that remains true for this model. The HDS12 features a massive 12-inch screen. Considering that most other screens are around 7 or 9 inches, you can see how much of a difference this is compared to the rest of the market.
Not only that, but the screen is multicolored and features touchscreen functionality. There are also controls on the side if you'd prefer using real buttons instead of pushing the screen. The resolution is 1280×800 with WVGA color and TFT LCD. This is good even by regular tablet standards.
The HDS12's screen is backlit, ensuring that it's easy to see both during the day and night. You'll have no problem seeing your target or selecting the various tools and options whether it's pitch black or the sun is at its highest.
StructureScan HD
This goes by several names, most commonly SideScan, but nonetheless, it's an impressive feature found with top fish finders. Normally, the fish finder will only show images of what's swimming around right under your boat, making visibility limited. StructureScan broadens the scan so that the sides of your boat are visible as well, giving you a 180-degree look under the water.
Lowrance's StructureScan comes in several iterations. The HDS12 Gen 3 uses StructureScan HD, which is noted for having remarkable clarity. It can also integrate directly with the DownScan (coming up soon) to further enhance images. This is all done through an 83/200 transducer and allows you to get a 600-foot look around your boat.
CHIRP Imaging Enhancement
CHIRP imaging is a military type imaging system that provides enhanced imaging when used with a sonar. That's because of how it scans. Normally a sonar just uses one frequency. This is easy and provides a good image, but the single frequency only generates a single look at the objects around you.
CHIRP enhances this process by running several frequencies simultaneously. This gives you a much clearer look at nearby objects and fish, and it improves sonar functionality in general by allowing you to see more.
DownScan and Overlay
Another feature you get with the Lowrance HDS12 is DownScan imaging. Do you want to know what it looks like down there to the fish? Would you like to get a close and personal look at all the fish and objects around your boat? That's exactly what DownScan does. It lets you see what's on the bottom of the water so that you know what's there.
Now, it could end there (and in many fish finders it does) but the HDS12 also has DownScan Overlay. This unique feature combines DownScan with either CHIRP or StructureScan (or both, if you'd like) to get a full view of the surrounding area. CHIRP enhances sonar images, StructureScan gives you the 180-degree view, and DownScan lets you make out everything around you.
This combination of viewing types makes it much easier to pick out great fishing spots, especially if you are looking for big catches or specific fish and don't want to waste your time casting out without getting anything in return.
System Control and Full Boat Integration
Considering how often you'll be working with the HDS12, switching tools and going through scans to find fish, wouldn't it be good to centralize the boat controls so that you can do everything from one station? Well, the HDS12 lets you do just that. With Full Boat Integration, you are able to control the boat and all electrical systems right from the fish finder.
While it takes a little while to properly set up, it's not nearly as hard as you think. Now you can use the outboard motor and control everything else without having to move around or switch from one system to another.
GPS Capabilities
A fish finder without a GPS just seems to be lacking something, but thankfully you don't have to worry about that because you get quite an advanced GPS with this unit. Aside from pinpoint positioning, it also comes preloaded with hundreds of maps for both coastal and inland waters. There are numerous GPS programs that it connects to, but the primary one you'll be using is Insight Genesis.
Aside from using existing maps, you can create special maps to compare your image scans, or you can download new ones with the WiFi functionality. Want to save your maps? You can connect up to two microSD cards for internal storage.
Processing Power
Lowrance is noted for having quick devices with strong processing power, but none of their models are this big or have this many features. So, how does the HDS12 Gen 3 stack up in terms of speed and power? Thankfully, it retains Lowrance's pledge to provide excellent devices that are simple and fast.
Even though there are numerous overlays and imaging types and mapping features, they all load and work smoothly. Delays are rare and you'll have no problem moving from one tool to another.
In Action
HDS 12 Gen 3 vs HDS 12 Live
As time goes on, you might have a harder time finding Lowrance HDS 12 Gen 3 for one simple reason. It's not the newest HDS model anymore. You'll more likely find HDS 12 Live, which is a very similar fish finder in terms of power and size, but it has one very significant upgrade that makes fishing easier than ever.
Both of these fish finders have many similarities. They both have the same screen size and nearly the same brightness (HDS 12 Live is somewhat brighter, but not by much), and they both use a combination of intuitive touch screens with simple control buttons on the side. They also both include StructureScan, side imaging, down imaging, CHIRP, and other common imaging types.
The one significant difference is that HDS 12 Live includes Active Imaging. This is basically a live sonar feed that lets you see the fish move in real time. You can gauge their movements, see how fast they are moving, see what direction they are going, and also see how they react to your line and bait. Unlike regular sonar where there are gaps between the images, this updates you in real time so that you can react accordingly.
There are a lot of under-the-hood changes as well. The HDS 12 Live has a stronger processor, is better with wireless connectivity, comes with more apps, is faster, and the interface is a little easier to manage. Plus, unlike the HDS 12 Gen 3, is rarely out of stock because it's a newer model.
Both are great if you want a large and powerful 12-inch fish finder. While there is a price difference, it's not by much and you're getting a better value with the HDS 12 Live due to the Active Imaging. However, if you want to save some money and you're OK with not having Active Imaging, then HDS 12 Gen 3 is great as well.
Conclusion
The Lowrance HDS12 Gen 3 model really is a sight to behold. Not only is it one of their biggest models, but it's also packed to the brim with power and features. Whether you're new or advanced, everyone can appreciate what this fish finder brings to the table. It's easy to use and the huge screen makes everything easy to see. While the large price tag might scare some customers away, it truly is worth each and every dollar.
You might also want to check out my best fish finder post to browse more models out there.