August 16, 2017
Lowrance Hook 7 Review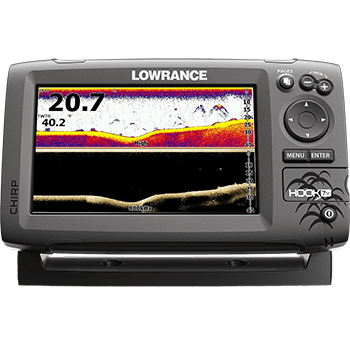 My Opinion on Lowrance Hook 7
Lowrance Hook series is for people who don't want to spend much money but also do want to get all the cool features from Lowrance. Although it comes with a bright 7 inches and high resolution of display, the performance is lacking. It is performing fairly well when you are not moving, but when you start moving the unit gets very sluggish while trying to zoom in and out on the map.
Lowrance Hook 7 offers CHIRP Sonar Plus Downscan Imaging to provide the best vision under your boat and with the TrackBack feature you can see your sonar scaning history.
Lowrance Hook 7 comes with preset split-screen variations, but you can customize them the way you want.
In this Lowrance Hook 7 fish finder, we take a look at some of the features, How to Use, the pros and cons and some customer testimonials as regards the fish finder.
Display
It has a 7 inches display with 800×480 pixels resolution
Sonar Range
Up to 1000 feet
Ease of Installation
The Lowrance Hook 7 comes with a very detailed manual which is very simple and easy to use. You can also view it online here
Main Features
CHIRP Sonar plus DownScan Imaging.
Over 500 fishing hotspots to make your fishing easier.
DownScan Overlay.
7 inches display.
Up to 1000 feet depth.
TrackBack™ to review and save key hotspots.
Split-Screen.
5000 Waypoint Storage
Advanced Signal Processing.
500W output power.
In Action
Conclusion
Although the unit itself is not too bad overall, i am not sure if it is worth the price tag with so many negative reviews. I would suggest Lowrance HDS 7 Gen3 instead of this unit.