August 16, 2017
Lowrance Hook 5 Review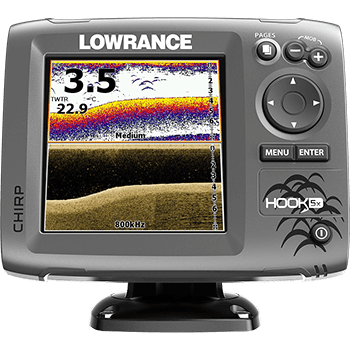 My Opinion on Lowrance Hook 5
Lowrance Hook series is for people who don't want to spend much money but also do want to get all the cool features from Lowrance. And Lowrance Hook 5 is not so much different than the Lowrance Hook 7. It comes with a low price tag, and many proven features by Lowrance.
Lowrance Hook 5 has high performance sonar with enhanced sonar sensitivity and superior noise rejection, but the downside is the unit's processing speed can't match up with those features. It gets sluggish at times when you are moving too fast with your boat.
In this Lowrance Hook 5 fish finder, we take a look at some of the features, How to Use, the pros and cons and some customer testimonials as regards the fish finder.
Display
It has a 5 inches display with 480×480 pixels resolution
Sonar Range
Up to 1000 feet
Ease of Installation
The Lowrance Hook 5 comes with a manual on how to install, you may as well watch videos on YouTube if you ever need help.
Main Features
CHIRP Sonar plus DownScan Imaging.
Over 500 fishing hotspots to make your fishing easier.
DownScan Overlay.
7 inches display.
Up to 1000 feet depth.
TrackBack™ to review and save key hotspots.
Split-Screen.
5000 Waypoint Storage
Advanced Signal Processing.
500W output power.
In Action
Conclusion
The Lowrance Hook 5 will give you many features for the price you are paying, I only wished the performance was better. I would still suggest this unit for people who like Lowrance quality.